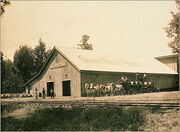 Sutter Home
Type
Table
Varietal
White
Red
Pinot
Blush
Dessert
Pink
Sparkling
Country
USA
State
CA
Company
Trinchero Family Estates
When the Trinchero family bought the Sutter Home Winery in 1948, they had a vision, a passion, and apparently, an insight into consumer tastes. In the early 1970s, Sutter Home started a trend when the company created White Zinfandel, introducing a new, sweeter flavor profile. They changed the way Americans enjoyed wine by offering them high-quality varietals at an affordable price. By the 1980s and 1990s, Sutter Home became a household name and the second largest independent family-run winery in the United States.
But that was just the beginning. Sutter Home began producing Moscato long before it was "cool," continuously staying one taste bud ahead of the consumer with new varietals such as Bubbly Pink Moscato and Red Moscato. And when "green" was just a color, Sutter Home introduced the wildly popular 187s in environmentally friendly, conveniently sized PET bottles.
Sutter Home continued to reach beyond the bottle by launching one of the first breast cancer awareness programs in 2001. Through the Sutter Home for Hope® program, the company has raised more than $800,000 toward breast cancer awareness and research. Then in 1990, the Build a Better Burger® recipe contest was born, demystifying the wine experience by pairing America's favorite everyday meal with its favorite wine brand—Sutter Home. And with an exciting $100,000 grand prize, it continues to bring together burger and wine enthusiasts every year.
With a fresh new label, Sutter Home continues to reflect the evolution of the brand and its consumers. With 20 different varietals to choose from in the Sutter Home portfolio, there's a wine to suit every mood and every palate. We can't wait to taste what's next.
Sutter home currently creates 20 varietals of wine
Bubbly Brut
Bubbly Pink Mascato
Cabernet Sauvignon
Chardonnay
Chenin Blanc
Gewurztraminer
Merlot
Moscato
Pink Mascato
Pink Pinot Grigio
Pinot Grigio
Pinot Noir
Red Moscato
Riesling
Sauvignon Blanc
Sweet Red
Sweet White
White Merlot
White Zinfandel
Zinfandel