Piper Heidsieck is one of the most prestigious Champagne houses, founded by Florens-Louis Heidsieck in 1785 in Reims, France. After his death, Christian Heidsieck, his nephew, partnered up with Henri-Guillaume Piper. The brand Piper-Heidsieck was created in 1838 when Christian's widow married Henri-Guillaume Piper.
Famous quote
[
]
Was by Marilyn Monroe who stated:"I wake up to a glass of Piper-Heidsieck"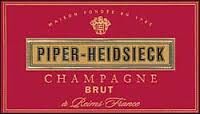 Famous Appearances of Piper-Heidsieck
[
]
Laurel & Hardy, Sons of the desert in 1934
Oscar for "My Fair Lady", Rex Harrison in 1964
Piper-Heidsieck recipients:

Jodie Foster in 1991, for Little Man Tate
John Cusack, in 1991, for his film achievements

Piper-Heidsieck at Sundance Festival recipients:

John Turturro, Denzel Washington, Gena Rowlands, Nicolas Cage, Dianne Wiest, Tim Robbins, Frances McDormand, Laura Dern, Kevin Spacey and Julianne Moore
Piper-Heidsieck has supplied Champagne for the Cannes Film Festival for more than 20 years.