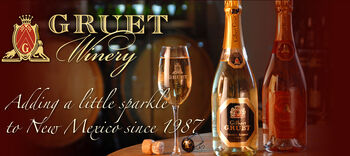 Gilbert Gruet founder of Gruet Winery was born in Bethon, France in 1931. He grew up in a poor family, and began working at a young age. In 1952, Gilbert Gruet, along with his wife Danielle, dreamt of producing fine quality Champagne. Gilbert followed his heart and in 1967 created the U.V.C.B. (Union Vinicole des Coteaux de Bethon), a co-op in the village of Bethon.
Sparkling Wines
Edit
In 1989, after the required minimum of two years aging on tirage, their first two sparkling wines were introduced to the wine world. Critics and connoisseurs alike were astonished by the quality and the value. New Mexico wine was on the map!
In 2012 Gruet sold 125,000 cases of wine and distributed them to 48 states. They produce nine different sparkling wines: Sauvage NV, Brut NV (non-vintage), Blanc de Noirs NV, Rosé NV, Extra Dry NV, Demi Sec NV, vintage Blanc de Blancs, vintage Grand Rosé, and the Gruet Winery's luxury tête de cuvée — the vintage Gilbert Gruet Grande Reserve. They also produce two excellent Chardonnays and two Pinot Noirs, both with a regular bottling and an unfiltered barrel select reserve bottling.